OFFER
Waste Thermal Treatment Plants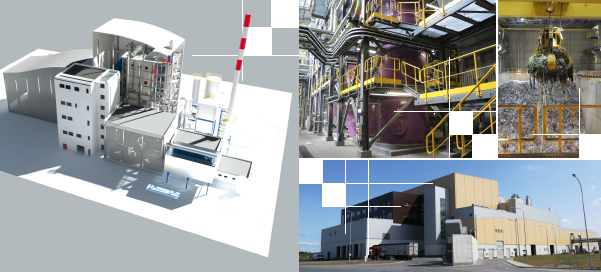 RAFAKO S.A. has an extensive, more than 20-year experience in the field of boilers operated at industrial and municipal waste incineration plants. The Company has delivered more than 70 units within this period. The boilers of different size and various incineration systems have been supplied to a number of European countries, including Germany, Denmark, The Netherlands, France, Switzerland, Austria, Belgium, Spain, Sweden.
RAFAKO S.A. is also experienced within the field of emission control equipment, including FGD plants and NOx reduction systems. The Company also offers dust removal equipment, including electrostatic precipitators and bag filters.RAFAKO S.A. in co-operation with renowned European partners offers municipal waste thermal treatment plants on turn-key basis to Polish market.
In the recent time RAFAKO has established co-operation with ThyssenKrupp Xervon Energy which has proven records within the field of grate furnaces applied in waste incineration plants.
According to the Decree of Ministry of Economy of September 9th, 2005 regarding criteria and procedures approving wastes to be deposited on waste dumps (Journal of Law No 186, item 1553, with further revisions), since January 1st, 2013 it will be not possible to deposit in Poland municipal wastes which limiting values exceed:
TOC (Total Organic Carbon) 5%
Ignition losses 8%
Gross calorific value 6 MJ/kg
On the other hand, taking into consideration Article 5.2 of EC Directive 99/31/WE for waste deposition, Poland agreed in Accession Treaty to reduce amount of biodegradable wastes deposited on waste dumps. The reduction is to be achieved in three steps for mass fraction in relation to total biodegradable municipal wastes produced in 1995 (i.e. ca. 4.4 million Mg) not higher than:
25% untill December 31st, 2010
50% untill December 31st, 2013
65% untill December 31st, 2020
There is an urgent for municipal waste thermal treatment in order to meet these rigorous regulations.
Waste thermal treatment plants currently offered on the market include municipal waste incineration, heat recovery from flue gases, flue gas and other byproduct cleaning as well as preparation of incineration and flue gas cleaning products for deposition or commercial use.
Each thermal treatment plant is either cogeneration plant or district heating plant or process steam source. Therefore, with regards to this, the process of converting energy in wastes into useful energy by municipal waste thermal treatment plants can be defined as energy recycling.