Aktualność
Awards for RAFAKO at the Silesian Construction Gala
18 october 2019
At the annual Gala of the Silesian Chamber of Construction Engineers, which took place October 18th at the Silesian Opera in Bytom, RAFAKO received three extremely prestigious awards.
RAFAKO received the Silesian Great Building Award - "For the achieved position of a leader on the market of energy facilities and installations in the 70th anniversary of activity". The award was received by Edward Kasprzak, President of the Management Board of E0003B7 sp.z o.o., responsible for building a 910MW Unit in Jaworzno. Thanking for the distinction, he recalled the Company's long history and its gradual organic growth to its current position.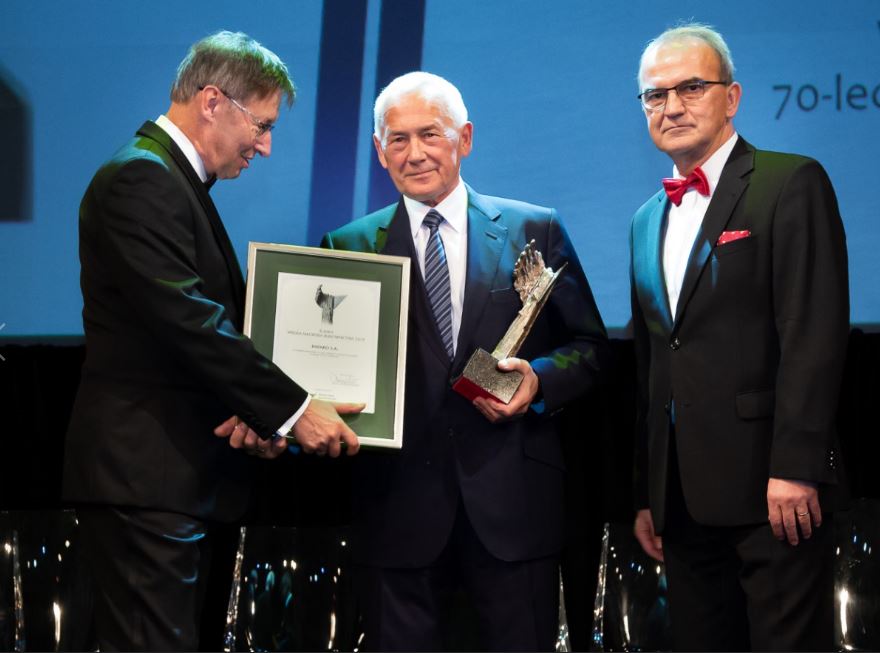 The Chamber awarded the Personality of Silesian Construction Medal posthumously to President Jerzy Wiśniewski. Receiving the award, PBG Group Communication Director, Jacek Balcer emphasized that although the founder of the PBG Group was born in Włocławek, he built the company in Poznań, but in Silesia he built a lot, and the President himself combined the best features from various regions of Poland. Many of his features, such as family, tradition and faith, as well as hard work are typical for Silesians, so it is symbolic to award him the prize just in Silesia and from the Silesian Chamber of Engineers.
The title of "Personality" was also received by the Vice President of RAFAKO S.A., Agnieszka Wasilewska - Semail. Thanking for the award, she dedicated it to all RAFAKO employees, because they create this company and shape its strength and market place in everyday work.
During the Gala, the award was also received by representatives of the Tauron Group company - Nowe Jaworzno, for the construction of a new 910 MW Unit at the Jaworzno Power Plant.
Więcej informacji można znaleźć w Centrum prasowym
« WSTECZ