OFFER
Technology description
SCR - Selective catalytic removal of nitrogen oxides from flue gas
SCR process consists in reaction of NO and NO2 (NOx) nitrogen oxides with a reagent added to the flue gas stream. Aforesaid reaction takes place on surface of a catalyst at a temperature ranging from 300 to 400˚C. It enables the achievement of NOx-reduction efficiency exceeding the threshold of 90%.
Catalysts, using vanadium, tungsten and titanium oxides as active substances, are made in form of plates, honeycomb or hybrid pattern. In all cases the catalysts are delivered and installed as modules (metallic baskets containing c.a. 1-3m³ of catalysts). Depending on flue gas characteristics, RAFAKO S.A. applies all types of catalysts that are available on the market.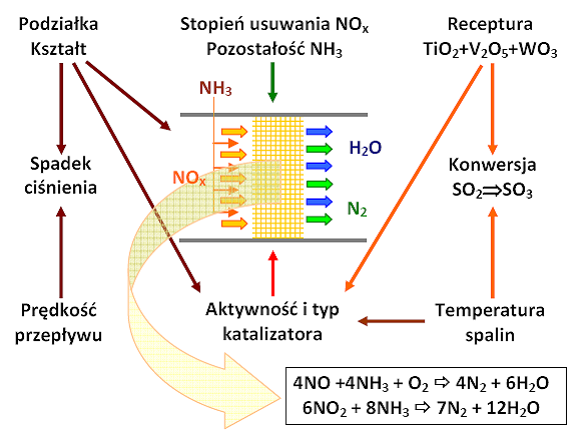 RAFAKO S.A. owns know-how enabling application of all reagents commonly used in industry:
ammonia water – usually in form of 24% aqueous ammonia solution – is the most widely used, reliable and preferable reagent,
urea, delivered in form of aqueous solution or granulate, requires a higher investment cost, but ensures better safety standards,
ammonia, delivered in form of liquefied gas, is the cheapest form of reagent, but it is frequently limited by local regulations.
The offer described above is dedicated for all types of boilers fired with:
coal,
fuel oil,
gas,
municipal or industrial waste as well as for other types of flue gas-emitting equipment or plants.
Within the field of its business activities RAFAKO S.A. offers an all-inclusive execution of SCR systems including:
technical – economical analysis and feasibility study,
conceptual design,
computational fluid dynamics (CFD),
physical modeling,
process and strength calculations,
design, workshop and as built documentation,
delivery of complete equipment,
construction site management and staff training,
SCR plant start-up, operational optimization and guarantee services.