OFFER
Waste Thermal Treatment Plants
RAFAKO S.A. offers turnkey complete installations for the thermal conversion of municipal waste, high-energy waste fractions (so-called RDF) and biomass. Waste-to-thermal-energy plants offered by RAFAKO S.A. guarantee strict compliance with stringent national and EU legal requirements for the thermal utilisation of waste and atmospheric emissions standards.
RAFAKO S.A. has more than 25 years of experience in the European market within the field of delivery of heat recovery boilers or boiler pressure elements for the thermal conversion of municipal, industrial and biomass waste, participating in more than 80 different projects related to the thermal transformation of waste during this time. RAFAKO S.A. has many years of well-established experience in a comprehensive flue gas cleaning process. The sum such experience results in RAFAKO S.A. new product, i.e. complete waste-to-thermal-energy plants.
In 2013-2017, RAFAKO S.A. successfully participated in the implementation of the project "Construction of Thermal Waste Utilisation Plant for Szczecin Metropolitan Area", being responsible for the design, delivery, erection and commissioning of the technological part, i.e. grate, heat recovery boiler, flue gas cleaning system and process waste treatment plant complete with process waste storage and distribution system for two process lines with combustion capacity of 10 Mg/h each.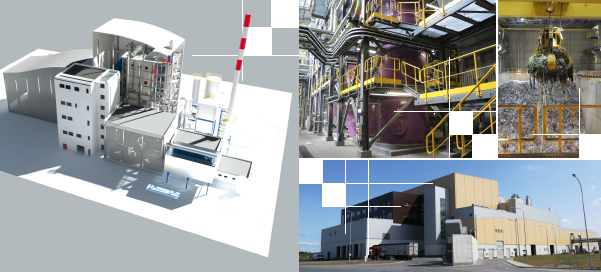 Thermal Waste Utilisation Plant - Szczecin
RAFAKO made it to the finals of prestigious Polish Project Excellence Award 2019 organised by International Project Management Association (IPMA) Poland.